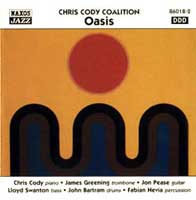 NAXOS JAZZ: 86 018-2
Released 1998
Available from:
FNAC
Naxos

Click here to listen to El Bahdja, the first track on this album (MP3 format).
With this recording Chris was the first Australian signed by the label Naxos Jazz International, a label developing a catalogue of creative contemporary jazz that unites Dave Liebman, Mike Nock, Ron Mac Clure, New York Jazz Collectif, and Clifford Adams amongst others and is distributed throughout the world.
Oasis, produced by Chris' friend, former teacher and eminent pianist and composer Mike Nock, assembles some of Australia's most renowned jazz musicians: James Greening, trombone, Lloyd Swanton, double bass, John Bartram, drums, Jon Pease, guitar, and Fabian Hevia, percussion.
Oasis is a multicultural journey in jazz inspired by the motifs and rhythms that influenced Chris during the seven years he was based in Paris in the 1990s working in Europe and North Africa.
This CD has sold very well around the world, was programmed by several international airlines including Qantas, and received extensive international radio play. It was also used for Bernard Pivot's popular French arts program « Bouillon de Culture » in its special on Australian artists.
All About Jazz, U.S.A:
An interesting and entertaining recording with fine performances by all! This disc is a very welcome one.
Jazzwise, U.K:
Cody deploys his forces with great skill, and the result is a splendidly rich and varied album.
Jazz Around, Belgium:
Compositions that showcase the technical prowess of the leader, as well as his extroverted personality
Sydney Morning Herald, Australia:
The material sparkles whether the mood is buoyant swing, darker funk, or walks on the wild side of improvisation… Cody's breadth of endeavour as a composer is as impressive as his playing. A welcome return.
Rolling Stone:
Chris Cody's second album is something of a musical photo album, summing up the seven years he spent in France, and the diverse range of sounds to which he was exposed. Returning to Sydney, the pianist teamed up with a group of players who shared his vision of jazz as an infinitely adaptable art form. This eclecticism can be most obviously heard on "El Bahdja", with its Middle Eastern motif, and the bouncing melodic line which runs through "African Dance". A European sensibility with a nod to Debussy, informs "Green's Peace", an understated composition infused with an appealing lyricism, while "Monk's Mood", the only non-original, is played with humour and a rolling gait.
The Drum Media, Australia:
There's a touch of "Kind Of Blue" about "Oasis", and complements don't come much higher than that Cody's piano is a constant highlight, reaching deep and soulful within his strikingly bold melodies.
Swing Journal, Japan:
Cody has absorbed the jazz and classical music of both Europe and America. That's why this is now an international combo. His works have an original 4-beat influenced by East-European, modal and Monk-like taste, and it is versatile music too. We can enjoy the combination.
Cadence, USA:
The musicians on "Oasis" will not be familiar to most American listeners because they are all fixtures of the jazz scene in Sydney, Australia. They have all been in Europe at one time or another and their playing is certainly world class. Pianist Chris Cody, who has a driving post-bop style, wrote all of the selections except for "Monks Mood", including the Monkish "Flooze Blues". His music explores plenty of moods including the Arabic "El Bahdja", the dark ballad After the Storm, the swinging "Gare de L'Est" and a passionate "Shadows Across the Land". James Greening has plenty of spirit in his playing while the rhythm section is both alert and intuitive, reacting quickly to the ideas of the lead voices. Well worth checking out.
Drum Media, Australia:
Chris Cody is one of this country's most impressive jazz pianists, and his compositional skills are no less developed, as evidenced on his elegiac, memorable "Oasis" (Naxos) CD.
Saturday Star, USA:
An Australian sextet led by much travelled pianist Cody absorbs rhythms from Africa, Europe and the Americas as well as classical and exotic formats – thus aiding original music sound as accessible and mysterious at the same time.
Journal de La FNAC, France:
With "Oasis", Chris Cody proposes a cosmopolitan jazz, both intimate and exuberant, anchored in the tradition with its swing and its cover tribute to Thelonious Monk but also influenced by African rhythms ("ElBadja" dedicated to the Algerian people, "African Dance"…). Australia, a new land of jazz? And why not! Chris Cody is one of its worthy representatives.
The Australian Financial Review:
There is an almost Ellingtonian spirit in Cody's spare piano playing and his dedication to an overall band sound. Instead of technical displays, which Cody resists as an end in themselves, there is the gentle construction of moods and narratives carefully constructed and played with charm and finesse.
The Penguin Guide to Jazz on CD, sixth edition:
The young Australian has a strong Monk influence which he is beginning to take in interesting directions. Monks Mood follows the original Flooze Blooze and cements the prevailing sound of a very competent and enjoyable record by a group that has had some European exposure. Cody writes well and "Shadows" and the mournful ballad "After the Storm" suggest a developing talent.
The Penguin Guide to Jazz on CD Fifth Edition:
If Australasia is the new melting pot, Chris Cody's band Coalition is a fair representation of its creative diversity…lively and joyous … His strength is in shaping a group sound, creating atmospheres. On "Shadows across the Land" and "After the Storm", the latter another feature for Greening's pocket trumpet, he patiently colours in backgrounds, content to stay out of the limelight. Only on "Shadows" does he cut loose and show glimpses of what he might achieve in years to come.