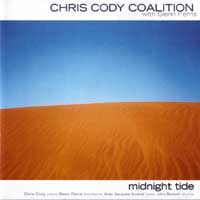 Label: Cristal
Distribution: Harmonia Mundi
Release: April 2003
Available from:
FNAC
Cristal Productions
Harmonia Mundi

I composed Chiara Luna after my niece was born. The name means clear or light moon, and the piece consists of two contrasting sections: one playful with a groove in six four and one more dark and serious in four four. Click here to listen to this track (MP3 format)
That Was It is a spontaneously composed piece we recorded in one take at the end of the session. I love the abstract, weird and different sounds and moods we get into. The title came about because one of the guys didn't realize we were recording and at the end of the piece said, "okay, I'm ready." "That was it!" came back the reply.
I named Djemma El Fna, which has an African-Arab feel to it, after the square in Marrakech which I visited on a day off from a gig in Casablanca. The place has an amazing mix of African and Arab cultures. You can see snake charmers, tooth pullers, story – tellers, Sahara tribesmen, and Berbers, all milling about in this buzzing place, the big town in the desert with amazing snow-capped mountains in the background.
I wrote the ballad Midnight Tide for my father, John Cody. The tide comes in, and the tide goes out, every day and every night. I feel the composition as a form of reflection or meditation on this simple truth.
Kill the Pig is another freely improvised piece. The title refers to the growling animal sounds Glenn conjures, and is also a line from the book Lord of the Flies by William Golding.
The piece Time to Leave has a classical melody played first by the piano then by the trombone and attempts to convey that feeling of nostalgia one sometimes feels at the moment of leave-taking. Click here to listen to this track (MP3 format).
I composed Lack of Evidence while thinking of the great pianist Thelonious Monk and the title refers to his piece Evidence. After the fairly syncopated melody is shifted around the band, it unfolds into a swinging blues.
Sensei is Japanese for teacher and I've been lucky to have had a couple of good ones. You never stop learning. The melody has a Japanese feel to it with a touch of the blues.
For those who don't know, Waltzing Mathilda is a traditional Australian folksong, still widely sung back home. It tells the story of a swagman or traveller who steals a sheep to eat and when the squatter (landowner) and police arrive to arrest him, he throws himself into the billabong or waterhole and drowns himself to avoid arrest. I like to see it as a hymn to the homeless, the dispossessed, and those still fighting repressive authority.
CHRIS CODY COALITION with Chris Cody, piano; Glenn Ferris, trombone;Jean Jacques Avenel, bass; John Betsch, drums. Epizo Bangoura plays percussion on tracks 1 and 3
1 Chiara Luna 9.30 Click here to listen to this track (MP3 format).
2 That Was It 3.49
3 Djemma El Fna 7.06
4 Midnight Tide 10.04
5 Kill The Pig 2.42
6 Time to Leave 7.59 Click here to listen to this track (MP3 format).
7 Lack of Evidence 5.28
8 Sensei 6.40
9 Waltzing Mathilda (trad) 4.59
Total time 58.56
Jazz Magazine, France:
Australian pianist Chris Cody, a sensitive interpreter with a perfect technique and composer of all the pieces, is surrounded by a Coalition that proves its cohesion and efficiency… A marvellous climate, between subtle arrangements and vast spaces of improvisation…there are good examples of this spontaneous creation where each musician exploits the possibilities of his instrument to the extreme. The leader unfurls his lyricism, nostalgic ballads, and atmospheric pieces of contrasted colours… the richness of this album lies in its diversity. It is likely to gather wide support.
Jazzman, France:
This recording should suffice to be persuaded that as a composer Chris Cody doesn't lack ideas. He is equally an attentive leader: he serves the ensemble before thinking of himself… he provides a welcome break from hegemonic pianists.
JazzAround, Belgium:
A superlatif quartet. Chris Cody demonstrates an innate sense of rhythm and melodic lyricism. Superbly driven by the rhythm section of Lacy, he makes marvellous use of the velvety tone of Glenn Ferris who is magnificently showcased by the very original writing of the Australian pianist.
AMG Steven Loewy, USA:
This superb recording finds Australian post-bop pianist Chris Cody leading an all-star quartet, including trombonist Glenn Ferris, drummer John Betsch, and bassist Jean-Jacques Avenel, with percussionist Epizo Bangoura sitting in on a couple of numbers. The pianist's sparse voicing and simple melodies belie an underlying turmoil and unreleased tension that bring out the best in his sidemen. The tunes possess a dark side, with the title piece, as an example, indulging in a mysterious, noir-ish bent, quiet yet unsettling. Although Cody never lets it explode, the rhythm section seems to always pursue the unexpected, with Avenel, in particular, keeping the listener on his toes. Although this is Cody's set, and he shows himself to be an excellent composer and a fine improviser, the most impressive work comes from Glenn Ferris, and his fans will not want to pass this one up, as it features some of his best soloing on disc. As the only horn, Ferris takes center stage, gurgling and purring, with notes cascading like horn-like bubbles from a water-pipe. Whether muted or open, the trombonist captures the moment with a thrilling, low-key ambience that fits the understated qualities of Cody's compositions without compromising their vitality. When the group enters the twisted realm of the all-too-short "Kill the Pig," with its back-and-forth swirling motion, there is a sense of bravura that soon dissipates. By the end of the album, you know you've heard something precious, delicate and often fragile, but very valuable. A minor gem.
Improjazz , France:
A measure of sweet melancholy infuses the whole disc, in the spirit of the traditional theme Waltzing Matilda that closes it. Ironic, mischievous, a little bitter, the leader plays it almost free, as if the anger expresses itself at the end, there where we least expect it. Chris Cody is a powerful pianist, gifted with a great clarity of delivery, of a veritable eloquence that he screens rigorously with a doubt coming from free and modern improvisation. His pieces are very composed: construction and deconstruction are equally combined. The disc is organised around the duo/duel between the velvety blowing of a trombone in long stretched ribbons and the rigorous pacing of the piano. The drums and the double bass support the principal couple with an appreciable discretion and a great sense of musical space.