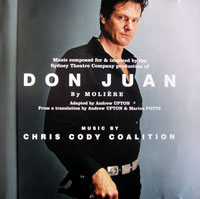 Sydney Theatre Company : 2001-10
Released 2001
Available from Sydney Theatre Company, Sydney Opera House

Personnel: Chris Cody, piano, James Greening, trombone, Ashley Turner, double bass, Fabian Hevia, percussion and drums. All compositions by Chris Cody
This CD contains the music of "the sexy jazz suite" as commissioned by Marion Potts for the Sydney Theatre Company's big production of Don Juan, by Moliere, at the Sydney Opera House in 2001. The play ran for six weeks to sell"out crowds and Chris' music was an important factor in the production's success.
The CD features the Australian "Coalition" of the "Oasis" album minus Lloyd Swanton and Jon Pease, who were unavailable but Lloyd was admirably replaced by Ashley Turner, back to Australia after living in New York.
As it was composed for theatre and a wider public fan, the music is considerably diverse, ranging from the satirical pseudo baroque "Prologue" to bitter sweet jazz ballads such as "Donna Elvira" and "Chorale" and more funky groove-oriented cuts like "The Isle of Fun" and "Sganarelle's Walk". It finishes with the beautiful "Curtain Fall", a tribute to Eric Satie and the French impressionist piano school. While some pieces are very short for the constraints of theatre, the band opens up on several numbers, with specific takes for the CD and a uniquely music listening audience. Chris even feels that the CD captures some of his best piano playing yet recorded!