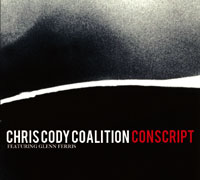 Chris Cody Coalition : Conscript
Featuring Glenn Ferris, Chris Cody, Bruno Rousselet, Laurent Robin
Label: Nocturne (CHC001)
Release: April 23, 2007
Chris Cody is one of Australia's foremost jazz artists. The band Chris Cody Coalition gathers together some of the best known jazz musicians in Europe: American trombonist Glenn Ferris, French bassist Bruno Rousselet and drummer Laurent Robin.
Chris Cody Coalition has performed to popular acclaim in jazz clubs and festivals around the world including Paris, London, Rome, Brussels, Sabaudia, Marciac, Casablanca, Sydney, Melbourne and Perth. Their hugely successful concerts have been featured live on radio and television in France and Australia. (Bernard Pivot, ABC Arts Show, France Musique etc).
Their last CD Midnight Tide (Cristal/Harmonia Mundi) received excellent international reviews and airplay on the major radio stations in France and around the world. Chris Cody's unique compositions while firmly anchored in the jazz tradition capture some of the space, light, and colour of the immense Australian landscape.
Chris Cody is a pianist and composer of astonishing harmonies and impressive sensitivity. The new CD Conscript gathers together eleven pieces of exceptional sensuality and urban groove alternating between swing, jungle, ballad, and other contemporary styles. The album features the interaction between Chris Cody's piano and the uniquely vocal and lyrical trombone of Glenn Ferris, with fine contributions from bassist Bruno Rousselet and drummer Laurent Robin.
1 Conscript 5.30
2 Slippery 4.49
3 Chromatose 4.35
4 And Did She Follow? 6.45
5 Eternal Beginning 8.45
6 Mary Goes Round 7.13
7 Octate 3.06
8 Free Wheeling 4.54
9 Horizontal Tango 4.20
10 Thinking of Lacy 4.19
11 Your Touch 10.13
Total time 64.54
JazzHot, France:
"Some of the best musicians of the moment … a feast of melody … an inspiration never at fault … a facility for improvisation that leaves you stunned … an absolute mastery … everyone expresses himself marvellously on the compositions of Cody who is an excellent pianist…another example of a jazz that knows the evolution towards the avant garde but stays anchored on lasting values, and privileges feeling, beauty and melody"