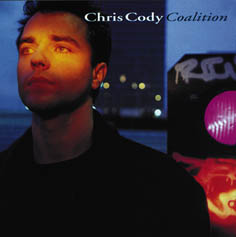 Label: Quoi de Neuf Docteur (France)
Distribution: Night and Day
Release: 1996
Available from:
All good record stores, the label, the artist and in Australia: Birdland
The recording took place at one of Europe's finest recording studios: Studio Davout, where Keith Jarret and Grace Jones had recorded amongst many others! The entire album was recorded in one night, between 8 pm and 6 am, not an ideal situation but everything clicked on the night and the result is an entirely fresh and spontaneous CD.
This was Cody's debut recording as band leader, recorded in November 1992 but not released until four years later. It features the first line-up of the Coalition, all great musicians and good friends of Chris and you can hear in the music that they have worked and played a lot together, not just on this material but in a wide range of situations. You can hear the complicity, confidence and understanding that only comes through time and friendship. This CD establishes the hallmark and future concept of the Cody Coalition: the importance of the musicians listening to each other, leaving space, and paying attention to the overall band sound and compositions as opposed to taking simply a series of individual solos.
Personnel: Chris Cody, piano; Jean-Claude Onesta, trombone; Michael Felberbaum, guitar; John Silverman, double bass; Igal Foni, drums & timpani.
Track listing:
1.I've got Twelve
2.Elephant Love
3.The Awakening
4.Nightmusic1
5.Just Hangin'
6.Nightmusic 2
7.A Home Away
8.The Craven
9.Shiftin'
10.Maiia
11. Nightmusic3
Mike Nock (pianist, composer, ECM recording artist):
Chris Cody is one of the most interesting pianist/composers to have emerged from Australia in recent years.
Jazz Journal, United Kingdom:
Cody is a writer with an all-round grasp. As a soloist he is equally accomplished. "Maya" shows his easy way with a ballad, "I've Got Twelve" his comfort in serial country and the solo "Nightmusics" his widely different approaches to free moods.
Variety, USA:
A fine mix of superior technical talent and youthful inventiveness…intelligent original compositions…his pieces range from witty improvisation laid over a funky groove to a classical cool sound to pretty ballads.
Jazz Around, Belgium:
Compositions that showcase the technical prowess of the leader, as well as his extroverted personality
The Age, Australia:
Cody is unusually versatile, handling up-tempo grooves, Miles Davis-inspired funk and moods of tranquil impressionism with equal assurance.
Basler Zeitung, Switzerland:
Cody creates superb soundscapes of melody and colour.
Sydney Morning Herald, Australia:
The material sparkles whether the mood is buoyant swing, darker funk, or walks on the wild side of improvisation… Cody's breadth of endeavour as a composer is as impressive as his playing. A welcome return.
Jazzwise, U.K:
Cody deploys his forces with great skill, and the result is a splendidly rich and varied album.
The Australian Financial Review:
There is an almost Ellingtonian spirit in Cody's spare piano playing and his dedication to an overall band sound. Instead of technical displays, which Cody resists as an end in themselves, there is the gentle construction of moods and narratives carefully constructed and played with charm and finesse.